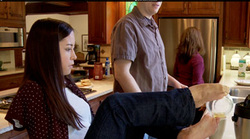 Any long journey begins with one step. In the case of RIGHTFOOTED, we began in Pasadena in February of 2012. Looking back on that first long day of shooting — made more difficult by unusually hot Pasadena weather — I'm astonished by how much we managed to accomplish. The day began at the home of "Auntie Jo", the aunt of Jessica's fiance Patrick, at about 8 a.m. By the time we wrapped around 11 p.m., we'd managed to interview Jessica, her mother Inez, and her sister Jackie. Plus we'd followed Jessica and Patrick on several important errands including a tour of the church where they planned to get married, a visit to a local jewelry store in search of a wedding band, and a pedicure (pedicures are very important, it turns out, when you rely so much on your feet!)
At each step of the way, there were unexpected surprises. During the visit to Garbe Jewelers for example, we explored one of the more interesting challenges for Jessica — what do you use for a wedding ring when you have no fingers to put one on? Various options were explored from toe rings (verdict: could attract too much dirt and be unsanitary) to pendants (might be too easily lost). tag cloud In the end it became clear that the ideal piece of hardware would be an anklet.
At the pedicure, Jessica and Jackie talked about wedding plans and, what else?, romance. In one of the funnier exchanges Jessica recounted a blind date that a friend arranged for her during college. Although it was rather sweet of the friend to set it up, she neglected to tell the fellow that Jessica was a bit different. The fellow was surprised but took it all in stride, and although no relationship developed out of the date, it was a memorable awkward moment. In retrospect it's easy to see how her friend made the omission — because once you are around Jessica for a few minutes, much less months and years, you simply forget she has any kind of "disability."
One of the best discussions of the day took place between Jessica and Patrick at a picnic lunch in a South Pasadena park. While Jessica deftly maneuvered chopsticks with her toes, she and Patrick talked about their relationship and the future. While neither seemed actually nervous about their impending wedding, Jessica spoke from the heart about how she'd worked her whole life to achieve independence and that she worried that marriage might deprive her of some of that hard-won freedom. It's an issue we plan to explore on an on-going basis throughout the film.