JESSICA COX (b. 1983 in Sierra Vista, Arizona) has famously eliminated the words "I can't" from her vocabulary. Although born without arms as the result of a birth defect, she has never allowed that to be a limiting factor.
While she suffered from self-esteem issues early on and physical challenges throughout her life, Jessica managed to overcome and achieve — earning a college degree and a Taekwondo black belt, learning to drive a car with her feet, type with her toes, and in 2008 fly an airplane. That feat landed her in the Guinness Book of World Records and led to an audience with the Pope, meetings with heads of state including President Obama, and a great deal of media interest including an appearance on the Ellen Show. Cox used the attention she received to become a role model and mentor for children with disabilities and their families, and to become a motivational speaker.
In 2011, Jessica married Patrick Chamberlain, her former Taekwondo instructor. In 2012 Handicap International USA, an NGO which supports persons with disabilities globally, recruited both Jessica and Patrick to serve as official Goodwill Ambassadors. Their travels on behalf of H.I. to date include trips to Ethiopia and the Philippines to promote opportunity and inclusion for people with disability, and lobbying for the passage of the global CRPD disability treaty in Washington, D.C.
In the present, Jessica Cox continues to work as a public speaker, mentor and disability rights advocate, serving as a shining example of the idea that disability does not mean inability. In the future there is no telling where her feet will take her. Her website is Rightfooted.com
---
Producer/Director
NICK SPARK is a Los Angeles based writer and documentarian with a long standing passion for unconventional characters, including the oft-overlooked female heroine.
The Legend of Pancho Barnes which he produced and wrote profiles gender-bending pilot Florence "Pancho" Barnes, a forgotten rival of Amelia Earhart's.
It won the L.A. area Emmy in 2010, screened in numerous film festivals and continues to air on public television stations in the USA and abroad. An accomplished writer of non-fiction and history, Nick was the associate editor for Wings and Airpower magazines.
He has also appeared on PBS' History Detectives and NOVA, Japan's NHK and National Public Radio concerning his research projects. He is an MFA graduate of the U.S.C. School of Cinematic Arts and has an undergraduate degree in Creative Writing from the University of Arizona. He also has the distinction of having won the student Emmy Award at U.S.C. as a grad student, and as an undergrad at the U of A, both for documentary films.
---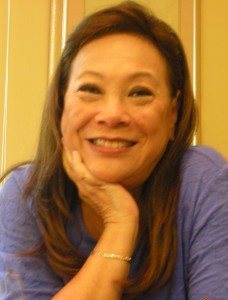 Producer
MONA LISA YUCHENGCO was the founder and publisher of Filipinas Magazine, the only nationally circulated glossy publication for Filipinos in North America.
Filipinas Magazine became the credible resource on anything Filipino and an instrument of community advocacy bringing Filipino Americans together and giving them a voice and a sense of identity and pride.
She sold it in May 2005. In late 2012, she started an online magazine, PositivelyFilipino.com, providing a window on the Filipino diaspora.
Ms. Yuchengco is also the founder and chairperson of Philippine International Aid.
In 2002, she received a Special Presidential Citation at the Malacanang Palace in Manila on behalf of Filipinas Magazine and in 2005, she received the "Woman of the Year" award from California Senator Jackie Speier.
She has written, directed and produced two documentaries: "66 years, 2 months, 21 days…and still counting" and "Marilou Diaz-Abaya: Filmmaker on a Voyage."
---

Director of Photography
BILL MEGALOS has been the cameraman on numerous documentaries, including Aretha, Paris is Burning, and the Emmy Award-winning W. Eugene Smith for American Masters, as well as the Academy Award-winning Down and Out in America, directed by Lee Grant.
For the past ten years, he has been making social documentaries for the Asian Development Bank, a large N.G.O. whose aim is the reduction and elimination of poverty in Asia.
He spent two years traveling with Muhammad Yunus, 2006 Nobel Laureate, for To Catch A Dollar.
---
 
Editor
SUSAN METZGER grew up in Marietta, GA, earning a degree in journalism from the University of Georgia.
After college, she worked as a producer and editor for Chet Burks Productions, an Atlanta-based production company with programs on FOX, ESPN2, and the Speed Channel.
In 2003, Susan moved to Los Angeles to begin her MFA in film production at the University of Southern California School of Cinematic Arts.
Susan's thesis film, The Red Ace Cola Project, was the recipient of the prestigious Charles and Lucille King Family Foundation Fund.
She cut her editorial chops working as the assistant editor for Academy Award winning documentary editor Kate Amend on Birth Story: Ina Mae Gaskin and the Farm Midwives.