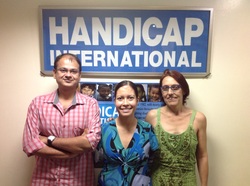 For the past month we've been working extremely hard on a Indiegogo campaign to fund Jessica's trip to Ethiopia, and the documenting of that trip by our team. Thanks to over 450 individual donors we reached and then exceeded our goal. The trip to Ethiopia will take place from March 28 until April 8th, and will cover a lot of ground. You can read a great deal more about the trip on our Indiegogo site which, for now at least, remains on line. You can see it at this link: http://bit.ly/XR5Gb6
It has been an emotional journey to this point and for many reasons, not the least of which is that we've received a series of emails from people in Ethiopia who are so excited that Jessica is planning to visit. One of them Capt. Solomon Giza of Ethiopia's Abyssinian Flight Services even offered to fly Jessica over Addis Ababa, and invite the press to witness it as part of her outreach.
The principle goal of this trip is for Jessica to work with children enrolled in a special program in primary schools run by Nobel Prize winning NGO Handicap International. H.I. is fostering inclusion and acceptance for children with alternate abilities in Dire Dawa and Harar, and we'll be visiting both of these cities during the trip.
You can read a terrific article about the trip and our film at this link: http://bit.ly/Xi8hf9
To follow Jessica's Ethiopian journey please join us on Facebook: http://on.fb.me/13zU6Yc