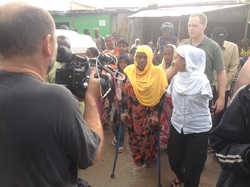 It's been a couple of weeks since we returned from Ethiopia and I'm just about over the effects of the jet lag. What will stay with me for the rest of my life is the feeling of accomplishment all of us — Jessica Cox, her husband Patrick, our hosts Handicap International, and my documentary team — felt about this trip. I'm here to tell you what a world of good it did.
Jessica's journey to Ethiopia fulfilled all the goals we set out. I can't even begin to explain how many lives she touched! Jessica was interviewed by every TV network, radio station, and news outlet in the country. Her message that alternately abled people should be given access to education and opportunity, and should not be discriminated against, was heard far and wide. She was embraced by the public, and must have taken 1000 photos with new friends. Once, a taxi pulled up, a man leaned out and said, "Jessica we love you" before driving off! It was extraordinary.
Thanks to the support of our donors, Jessica was able to visit the University of Addis Ababa and primary schools in Dire Dawa and Harar where alternately abled kids are learning right next to "normal" students. We filmed as she encouraged them to work hard and dream big. But it was her one-on-one visits with children that really are memorable. At one point she was introduced to an eight-year-old boy named Tarikou who was, like her, born without arms. He'd never met a non-African person, or been in a car, or imagined anyone else existed like him, but here he was meeting Jessica. Initially he was scared stiff by all the new things he was experiencing! We were concerned, but fortunately the ice was broken over a a traditional Ethiopian meal. For those of you who have never had injera, it is served on flat dough which you roll up to eat. Tarikou delighted in teaching Jessica how to do this with her toes, and from that moment on they were best friends. His mother told us it was a life-changing experience for the little boy.
As always, part of Jessica's inspirational story was about aviation. Thanks to the support of Abyssinian Flight Services and Capt. Solomon Gizaw, Jessica was able to fly over Addis Ababa. The flight, with her serving as co-pilot, was well documented by local TV stations and became the talk of the town. A short time later Jessica flew to Dire Dawa and made an enormous impression on local children, including alternately abled students from one of the schools she visited, who greeted her at the airport. The looks of astonishment as Jessica parked the aircraft and came out of the cockpit — will stay with me for a very long time.
I'll be posting additional blog entries about this trip in the near future.
Now we face another big challenge — to begin editing what we filmed, which will require a new round of fundraising. We estimate costs at approximately $50K. Please consider spreading the word and helping us move forward by making a tax deductible donation through the International Documentary Association at this link:http://www.documentary.org/community/sponsorshi…
To donate by check, make it payable to IDA and put "Rightfooted" on your subject line. Send it to: Rightfooted c/o IDA Fiscal Sponsorship, 1201 W. 5th Street, Suite M270, Los Angeles, CA 90017