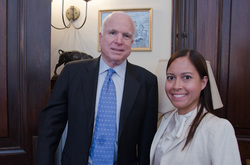 In December 2012, Jessica Cox was just beginning to work with Handicap International and plan her trip to Ethiopia. At that time most of the H.I. staff was working hard, lobbying for an important treaty that was making its way through the U.S. Senate. The United Nations Convention on the Rights of Persons with Disabilities (UNCRPD), which promotes equal rights for disabled people around the world, was modeled after the landmark Americans with Disabilities Act (ADA). The UNCRPD recommends various actions for governments, such as taking steps to make it easier for disabled children to attend school.
Despite a lot of intense lobbying, including by many advocacy groups and former Republican Sen. Bob Dole and current Republican Sen. John McCain (both military veterans with disabilities stemming from their service), the Convention fell short of ratification. The measure received 61 votes, just six fewer than needed for adoption. The majority of those who objected to the treaty were conservatives who appeared to vote against it for political reasons.
At the time, Jessica followed the progress of the UNCRPD but did not get involved — not only was she extremely busy, but Jessica's never had much of an interest in politics.
But, the trip to Ethiopia changed her perspective. As Jessica learned, Ethiopia's adoption of the UNCRPD and the UN's Millennium Goals, helped make it possible for some disabled children to attend school. "It was truly an incredible experience, an eye-opening experience, to realize how much education can affect differently abled children," Jessica said in a BBC interview about the trip. "I've seen how difficult it is for children to deal with stigmas and how important it is to allow them access to education, and understand what possibility is all about. If they are given the opportunities they can succeed." And in part, Jessica recognized, that opportunity came about thanks to the UNCRPD.
Flash forward to June 4, just two months after returning from her trip to Ethiopia, Jessica began another important journey — to Washington, D.C. and Capitol Hill. The purpose of the visit was to lobby for the UNCRPD, which will be reconsidered by the Senate later this year, on behalf of Handicap International and, as she put it, "children in Ethiopia and everywhere else." Having the UNCRPD adopted by the USA, is an important endorsement that can encourage other countries to take the same steps.
Assisted by her husband Patrick and H.I. staff, Jessica walked the halls of various Senate Office Buildings, and personally met with six Senators and/or members of their staffs. Lobbying turned out to be intense — you're lucky if you get more than five minutes of face time with a U.S. Senator — but Jessica also proved once again she's up to any challenge. She got the attention of everyone she met, and had productive dialogues with those on both sides of the issues. We know she made an impression; hopefully she also changed a few votes from "no" to "yes".

The D.C. trip was important for another reason — it most likely represents the end of principal photography on "Rightfooted". In the eighteen months since we first began following Jessica she's gotten married, traveled across the world, appeared on the BBC and countless other media outlets, lobbied the U.S. Government, and made a difference in many lives. It's our hope that the film will represent another stage in Jessica's journey, one in which her powerful message is shared through the power of images, with people all over the world. Thanks to all of you who have helped make it possible.
Post-production of Rightfooted will begin shortly. It's going to be a challenging and expensive proposition — so please consider helping by making a donation to our project.
And please, when you read about the UNCRPD coming up for another vote in a few months' time, please contact your senator and urge them to vote "yes"!