To download an Electronic Press Kit and Photographs visit this link.
Or click here: 8x10RightFootedPressKit10122015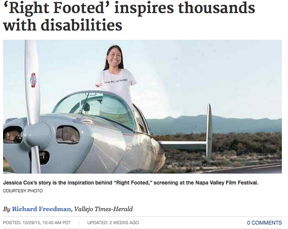 Cleveland International Film Festival 2016
Jessica Cox, the star of Right Footed which won the "Best Social Action Film 2016" at the Hollywood Film Festival…
Beloit International Film Festival winners announced
Beloit International Film Festival has announced 10 BIFFY awards for the best of the more than 100 films submitted to this year's festival.
'Right Footed' screens to packed house in SF film fest
Acclaimed documentary "Right Footed" by Nick Spark screened to a packed theater on closing night at this year's CAAMFest…
"Right Footed" at Philadelphia Asian American Film Festival
The largest Asian American film festival on the East Coast kicks off at 7 p.m. Thursday at International House in West Philadelphia…
The Cinema Touching Disability Film Fest will be held Nov. 6 and 7 at the Alamo Drafthouse Village Lamar. Organized by the Coalition of Texans with Disabilities, the film festival screens narrative and documentary features and shorts that address issues faced by people with disabilities. The festival opens Nov. 6 with the documentary Right Footed about Jessica Cox…
"Right Footed" Inspires Thousands with Disabilities
When former Arizona Congresswoman Gabrielle Giffords was shot point-blank in the head in a Jan. 8, 2011 assassination attempt near Tucson, it hit former high school classmate Nick Spark hard…
Radio Calistoga interviews Jessica Cox and Nick Spark
I caught up with Nick Spark and Jessica Cox from Right-Footed. Born without arms as the result of a severe birth defect, Jessica Cox never allowed herself to believe that she couldn't accomplish her dreams…
Five Reasons to See Right Footed at Vancouver Asian Film Festival
We are excited to be at the Force of Change Program happening this Saturday, November 7 as a Community Partner for the
Vancouver Asian Film Festival
.  The feature film 
Right Footed
is an exceptional tale of Philippine-American Jessica Cox, who despite being born without arms is living life to its fullest potential.  If you're looking for something to do this weekend, here are five reasons why you should see 
Right Footed
at the Vancouver Asian Film Festival…
Hollywood Film Festival Announces Winners
Best social impact film went to Right Footed, the true story of Jessica Cox, a woman born without arms as a result of a birth defect, but manages to become fully independent even learning to fly an airplane with her feet.
Armless Fil-Am Shares Story in New Documentary Film
The world's first armless pilot and first armless black-belt in the American Taekwondo Association has added another item to her ever-growing resume of
accomplishments: the subject of a documentary depicting her life.
Awareness Film Festival Announces Winners
Right Footed won the "Audience Award" at the Awareness Film Festival in Los Angeles.
Offshoot Film Festival Announces Winners
Right Footed won the "Best Documentary" honor at the Offshoot Film Festival.
The Extraordinary Documentary Right Footed
The documentary film Right Footed which tells the amazing story of Jessica Cox – a person who was born without arms as the result of a severe birth defect. Tell us about what brought about the making of this film.
KATU Oregon News: Jessica Cox and 'Right Footed' visit Portland
TROUTDALE, Ore. (KATU) — The world's only FAA certified pilot without arms is in town this weekend for the Portland Film Festival and the U.S. premiere of a documentary about her life called "Right Footed."
Fox12 Oregon News: 'Right Footed' documentary premieres at Portland Film Festival
PORTLAND, OR (KPTV) – Jessica Cox was born without arms, but she doesn't let that get in the way of achieving her goals. On Sunday she was in Portland for the premiere of the documentary 'Right Footed'…
Cinema Touching Disability Film Festival Welcomes Jessica Cox and "Right Footed"
We are thrilled to announce that Jessica Cox, the subject of Cinema Touching Disability 2015 feature film Right Footed, will be in attendance at this year's Festival in Austin, Texas! In the meantime, check out our exclusive interview with Jessica below.
New "Stuck Mic" Aviation Podcast about Jessica Cox and "Right Footed"
Hosted by a team of aviation enthusiasts, the "Stuck Mic AvCast" is one of the flying world's great forums. This episode is devoted entirely to Jessica, her life story, and the documentary Right Footed.
Napa Valley Film Festival to include "Right Footed" in documentary competition
The Napa Valley Film Festival (NVFF), scheduled to take place November 11-15, today announced its Narrative and Documentary feature film line-ups for juried competition.
"Right Footed" selected for New Jersey International Film Festival
The Rutgers Film Co-op/New Jersey Media Arts Center, in association with the Rutgers University Program In Cinema Studies, presents the New Jersey Film Festival Fall 2015 — the 34th Anniversary of the festival.

Little girl born without arms meets, shares embrace with armless pilot
Meeting your hero can be pretty amazing, just ask 3-year-old Ruth Evelyn Pranke. The littler girl, who goes by RE, was born without arms and recently she got to meet, and hug, armless pilot Jessica Cox. RE and her mother Karlyn Pranke, of St. Paul Minnesota, drove six hours to meet Jessica, ABC News reports.
Incredible photo of Jessica Cox, 3-year-old shows you don't need arms for a hug
"How do you hug without arms?" That's one of the top questions Jessica Cox, the world's first armless pilot, says she answers in her role as a motivational speaker. And a recent photo she snapped with a fan gave the answer once and for all.
Documentary about armless pilot premieres at EAA AirVenture 2015 event
OSHKOSH – Jessica Cox flies airplanes using only her feet. Premiering Thursday at EAA AirVenture 2015 is "Right Footed," a documentary about Cox, who was born without arms due to a severe birth defect and learned to fly despite her disability. Director Nick Spark said he was inspired to create a documentary about Cox because her life is not just about her struggles but her ability to succeed in aviation. He said Cox flying an airplane serves as an example of what anyone can do with perseverance and determination…
Documentary on Armless Pilot Wins Best Documentary Honors at Mirabile Dictu Film Fest
SAN FRANCISCO – Filipino American inspirational speaker Jessica Cox's film, "Right Footed," won the best documentary film award at the Mirabile Dictu Film Festival in Vatican City. "Right Footed" received the "Il Pesce d'Argento" (The Silver Fish) for Best Documentary film at the 6th International Catholic Film Festival held from June 22 to June at the Vatican. All the proceedings were held in Italian so Cox said she had no inkling that her film had won until the last moment, when the trailer was shown…