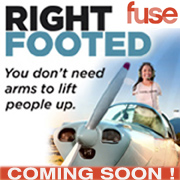 RIGHT FOOTED
Documentary Premieres Saturday, May 20 at 8P/7c
Right Footed is the next feature in Fuse's new We The Dreamers documentary series. We The Dreamers shines a light on young, idealistic and diverse subjects celebrating their cultural heritage and identity, confronting issues and overcoming prejudice.
Directed by Emmy Award-winning filmmaker Nick Spark, Right Footed chronicles Jessica Cox's amazing story of overcoming adversity. Born without arms, Jessica never allowed herself to believe she couldn't accomplish her dreams. An expert martial artist and motivational speaker, Jessica is also the world's only armless airplane pilot.
Right Footed follows Jessica as she becomes a mentor for children with disabilities and their families, and a disability rights advocate around the world.
Fuse and Handicap International have teamed up for the Right Footed U.S. television premiere Saturday, May 20 at 8P/7c.
Find Fuse in your area with our channel finder.