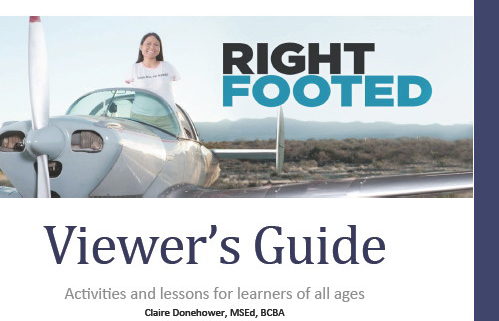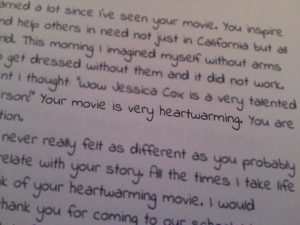 This past year, Right Footed has screened at many schools and received a heart-warming reception. We've received many letters from educators who have used the film to teach valuable concepts including self-reliance, the importance of mentorship, and of course the principles of inclusion and opportunity. These are all values that Jessica and her family embrace and which form the heart of our film. Some students have been so affected by the film that they've written us letters, and while Jessica is used to getting fan mail (such as the note on the left) it's been gratifying to learn how her story can be used in a classroom. Many children with disability have benefited from learning about Jessica, and many "normal" children have taken away valuable life lessons about the lives of people with disability,  the importance of being proud of our differences, and the importance of being able to say "I can".
In support of our on-going mission to see the film out in the world, the staff at the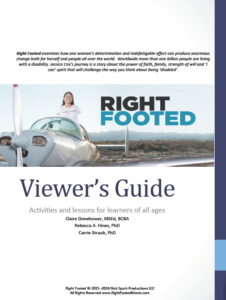 University of Central Florida volunteered to create a study guide / curriculum for use in schools. The guide, which was only recently completed, was produced by Claire Donehower, a doctoral candidate at the College of Education and Human Performance, and Rebecca Hines, Ph.D. and Carrie Straub, Ph.D.  The curriculum will be provided to schools when they screen the film, and has already been used in support of some recent educational screenings.
Want to bring Right Footed to your kids' school? Simply contact us to learn how.