THANK YOU FOR YOUR GENEROUS SUPPORT
"RIGHTFOOTED" is being made entirely through donations via our fiscal sponsor the International Documentary Association, a recognized 501(c)3 non-profit. Gifts made in support of the project are tax deductible. Click on "How to Donate" to learn more.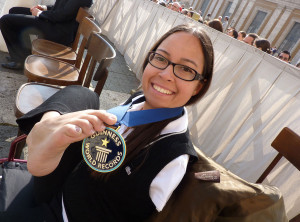 WE ARE DEEPLY GRATEFUL TO FOLLOWING MAJOR DONORS for their generous support
Aero Club of Southern California
Anonymous
Joanne Dickson
14th Asia Pacific Life Insurance Congress
Louis Hemmings
Sandy Houston
Philippine Daily Inquirer
Charles Ripps
Rotary Club of Tucson
Ron and Marcia Spark
Mona Lisa Yuchengco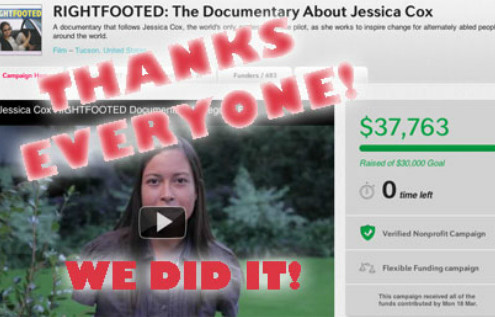 ADDITIONAL MAJOR CONTRIBUTORS:
Eric B. Auxier
The Bank of America Foundation
Sydney Cohen
Janet Flack
Global Photo Assoc. USA, Inc.
Goldman, Sachs & Co. Matching Gift
Zenaida R Mallari
Prowave Media
Nancy Ripps
Stephanie Ripps
Modesto Rotary Club
Pantano Rotary Club Foundation
John Seibold
Kevin Spark
Symonds Flags & Poles
Sandra Zerner
Additional Contributors (Platinum Tier)
Armin Abusaidi
Anonymous
Tara Bohan
Laura Brown
Sue Bucholz
Chris Clausen
Sydney B. Cohen
Kelsey Collins
Teddy & Jeanine de Rivera
Norman Richard Dewitt
Eliza Duerme
Christine Dunning
Paul Glenshaw
David and Tiffany Goldwyn
Bernice & Joseph Haydu
John H. Hill
The Jonker Family
Patricia MacCorquodale
Alexander Potiyevsky and Yelena Mamlyga
Kevin May
Modesto Rotary Club
Wayne Moon
Bernard Nelson
Charles Parisi
Laura Pew
Don Ratliff / Yes I Can Project
Nancy Ripps
Mary Scott
Karen A. Segal
Jeremy Segundo
Elaine Serina
Donald Sheldrake
Dina Sherzer
Roberto Smith
Clive Smith
Charla & Steve Spector
Richard Sugden
Sun Lakes Aero Club
Allison Titcomb
Mary Walker
Additional Contributors (Gold Tier)
John Alber
Alexander
David Scott Allen
Felix Ampongan
ATA Martial Arts of Southport
Eric Auxier
Timothy O. Barnes
Fran Bera
John Bilderback
Meredith Bishop
Kim Blackseth
Thomas Bolt
Benoit Bosquet
Timothy and Evan Brand
Michel van den Brink
Lolita & Michael Brodie
Elizabeth L Burnam
David G Burros
Dr. Don's Buttons
Bruce Campbell
Brian and Linda Carson
Nancy Chamberlain
Susan Chamberlain
Carol Citters
Robert Clark
Joanna M Clark
Gary Clarke
Syd Cohen
Wylijanna Cole
Matthew Cole
Matt Cole
Caroline d'Otreppe
Jean-Francois Darmand
H Merrill Davis
Mary Beth Dawson
Milan Desai
Kimberly and Dennis Dibble
Etienne Dotreppe
Joseph DuPont
Daniel Durrie
Andrew Edison
Eileen McDargh Elvins
Juannie Eng
Eric Falk
Roy Fassel
Haeran Fisseha
Claire Florio
Scott A. Forsha
Molly Franks
Wendy Fraser
Charles Freeman
Dorothy Freer
Jean Gadea
Nancy Beth Garrett
Jill Gernetzke
Dorothy Goldspink
David and Tiffany Goldwyn
Joseph Grekowicz
Gudmundur Felix Gretarsson
Thon Griffith
LeRoy Grubbs
Barton Gurewitz
Diana W Hadley
Michael Halverson
Ted Hammerman
Bernice Haydu
Lim Dau Hee
Jerry Hill
Dennis & Joan Hilleren
Charles Jacob
Lisa & Dan Jurkowitz
Ben Kalkman
Gerald S Kaufman
Anne Kessler
Richard Knowlton
Masahiko Kobayashi
Beckie Kravetz
Joan Kravetz
Jo Kubran
Wey-Wey Kwok
Lucas Lee
Brad Lewitzke
Dana and Peter Limperis
Robert Little
Nina Loretz
Marla Lynch
William R Machgan
Asima Saad Maura
Eileen McDargh
Marilyn McElligott
Trish McGuire
Richard McPherson
Greg Lefevre Media
Robert Miller
Mike Mintz
Diane Monico
Samuel Mordka
Loida Duran and Neil Lansanh
Vern Nelson
Catherine Nichols
Joseph O'Donnell
Ronnie ODell
Rose Olivas
Carrie Oliver
Outsell Marketing LLC
Larry Overstreet
Palos Verdes Breakfast Club
Penny Pearson
Jessica Peck
Arnold Pedrigal
Charles F. Peterson
Karlene Petitt
Amanda Pope
Gloria Pulido
Howard Putnam
Rajendher P Reddy
Pat Dunford and Richard Guthrie
Judy E Rifkin
Christopher L Robbins
Jillian Robinson
Sean Roe
Catherine Romero
Rotary Club of Willits
Jana Rothenberg
Michelle Rouch
Dr. Asima F. X. Saad Maura
Alan Salisbury
Jesus Santelices
Maria Asuncion D. Sayat
Michael Schur
Mary and John Scott
Jeremy Segundo
Joel Sherzer
Eddie Shieh
Gene A Short
Allan Silberger
Leslie Singer
Bennett Sloan
Gary Smith
Clive Smith
Jackie Smith-Hastie
Heather Snodgrass
Jenka Sokol
Mohan Vemulapalli and Marie Spark
Ros Stephenson
Ryan Stern
Donald Stickney
Cecelia M Stratford
Alexander von Streeruwitz
David and Susan Stumpf
Hayman Tam
Patrick J & Catherine M Warburton
Larcenia White
Randy Williams
Scott Williams
Heidi Wilson
Michael W. Wojcik
Keith "Kaze" Wood
Joseph Wu
T. Alan Younker
Additional Contibutors (Silver Tier):
Kate Amend
Judith Apostolik
Edward Arthur
Jack Elliott Associates
Eric Auxier
Andrzej B.
Ronke Babajide
Henrietta Sedgwick Barassi
Barbara H. Barnes
Ben Rifkah Bergsten-Buret
Mica Bevington
Nahom Beyene
Daniel Biggerstaff
Thomas Birch
Tilly Boleyn
Johannes Lindhart Borresen
Barbara K Bundy
Shakti Butler
Hong Cao
Cheryl E. Chamberlain
Susan C Chamberlain
Kerri Chen
Vicki Clack
Janet Clark
Rebecca Coke
Nancy D. Cook
Kevin Corns
Polly Cortez
Stefano Cosatto
James Cox
Dale Cresap
Fred Darland
John Davis
Steven Dengler
Pam Dotson
Mary Grace Dumalaog
David Elins
Shawna Emerick
Tara LeAnn Eriksson
Mary Featherstone
Fire and Earth LLC
Scott Flugum
Markos Fragoulopoulos
Chris Franklin
Michael Fratkin
Larry Ganzer
Catlin Garrison
Stephanie George
Bobby Gill
Peggy Gillespie
Abby Ginzberg
Jenny Gonzalez
Michael Green
Nancy Guest
Tanya Hakala
Michael Halverson
Sara Hammond
Kathleen Hanrahan
Kelsey Hawley
Mary Hedeen
Shaun Hennessy
Howard Herscovici
Jerry Hill
Abigail Hirsch
Marie Hoefer
Wayne Hoefle
Matthew Hoffman
Scott Horvath
Ken Howard
Don Howe
RL Hughes
Jesse Hull
Emad Ibrahim
Leland Robert & Gene Nora Jessen
Peg Johnston
Ron Kaplan
Loy Kiser-Chipley Gabor
D. Kiss
Karen Klatt
Beckie Kravetz
Margaret Kugler
Krishna Kumar
Tara Lazar
Lucy Leu
Joan Levy
Kjell Lindgren
Laurel Lippert
Garth Luke
Tina Maddela
Yajaira Mahecha
Aldona Majorek
Joseph Marin
Andrew Marshall
Richard Marshall
Juan Paulo Martinez
Shelly Maynard
Barbara McNichol
Heart & Soul Media
Aimee Mendoza
Slobodan Milnovic
Wendell Minnick
Scott E & Jean M Morgan
Galen Morris
Mari Murayama
Alin Muresan
Merrilee Neal
Sharon Neeman
Cleve Nettles
Bossa Nova Interactive
Regina OConnor
Beth Ogilvie
Jay Olaszek
Vicki L Parsons & Robert D Parsons
Rui Pereira
Russell Perkins
Sarah Perry
Karl Pietrzak
Yoga Prakasa
Matt Radecki
Beatrice Rand
Beth Raphael
Dan Reams
Stephen Richards
Trevor Richards
Peter Rinde
Margaret Ris
Russell Roberts
Marc Robertson
Steve Robinson
Richard Roddy
Alan Rosenberg
Carole Rosenzweig
Michelle Rouch
Hank Rowe
Su Ryan
Amy Schapiro
Margy Schone
Christine Schreier
Michael Schultz
Jake Schultz
Mary H & John L Scott
Andrey Seryukov
Milind Shastri
Allan Shuman
Susan Sitzmann
S Sivapriya
John Skarha
Jacqueline Skelton
Jeremy Snowdon
Marc Stein
Daisy Taylor
Laron B Terrell
Kelly Thomas
Kelly R. Tillson
Walkie Talkies Toastmaster
Elayne Toizer
Edina Torgyekes
Irene Turner
Virginia Unger
T Vandendolder
Monica Victorino
Robert Wager & Deborah M. Wager
Allan Waite
Hui-chang Wang Kathryn Weill
Shirley Weitz
Andrew Wellman
Clay Westervelt
Michael S Weston
Pam White
Jamie Wrench
Atsushi Yamamato
Paul Yoshimune
Monique Zavistovski
Additional Contributors: (Bronze Tier)
Geoff Adams-Spink
Myra Alperson
Anonymous
Anonymous
Esteban Arguello
William Ashton
David Baker
Christopher Ballard
Katie Baxendale
Martela Beck
Annie Bishop
Grant Boden
Nancy Miller Borg
Daphne Boyer
Susan Braiden
Fred Bushroe
Jean-Francois Carraze
Dale Carson
Johanna J. Chew
Stanley Coelho
Duong Cong
Ioana Constantinescu
Doug Crowe
Marsha Curran
Marvin Dace
Elzbieta Danilewicz
Belinda Davis
Ryder DeBruyn
Lori Degman
Thao Van Doan
Niall Doherty
Ngoc Edwards
Martin Fairbairn
Michael Falcone
Barbara Falk
Heiniger Family
Pedro Ferreira
Gavin Fish
Artur Fisher
Heather Fitzgerald
Dean Fuller
Emanuel Furst
Tchavdar Georgiev
Rachel Gertz
Susan Gilmour
Marcia Kramer Gitelman
Olie Cora Bibi Gnagno
Lenka Gondolova
David Goorevitch
Christopher Gosch
Albert Sanchez Graells
Joe B Gregg
Jennifer Hafen
Dan & Susan Halperin
Alan & Susan L. Hard
Naomi Hasan
Ira Heilveil
Spyros Heniadis
Jean Hills
Anthony Hubble
Arleigh B Hughes
Danielle Hyndman
Shannn James
Leland and Gene Jessen
Keith R. and Debora Kaback
Carl Kalin
Stacey Kalish
Morley Kamen
Miss Kandu
Joyce Kidd
Lesley Kissin
Judy Korin
Steve Krumholz
Steven Kubrak
Kadet Kuhne
Birthe Lauchengco
Richard Lawrence
Liran Lotker
Mark Luce
Susan Lytle
Elaine Macabare
Ray MacDonnacha
William Maciel
Scott Macinnes
Christopher Mackin
Tina Maddela
Teri Madden
Joyce Maloney
Raymond Mansfield
Andre Matz
Kenneth Maupin
Sara Mccracken
Daniel Meyer
Tamika Miller
Atle Mo
Tina Monarrez
Nancy Moore
Gonzalo de Luque de Motta
Ralph Moxness
E Muniz
Victor Murillo
Ryan J Naylor
Michael Nerrie
Jeffrey Nguyen
Christina Nitschmann
Pedro Jose Moreno Novarro
Igor Pashintsev
Monsieur Shiraz – Ali F. Peera
PhilAmTHropy
Eric Plante
Susan Quesada
Paul Remde
David Rosing
Steve Schapiro
Paula Schildge
Jacob & Claire Schneider
Jennifer Schneider
John Schultz
Laura Segura
Elaine Serina
Sheila Shea
Sheila Sicilia
Maria Sierra-Bell
Angie Slingluff
Richard Smith
Ann Starbuck
Paul Steffen
Charles Stites
Simone Storey
T.J. & Ana D. Stransky
Esther Sugai
Eric Taylor
Carmelle Theriault
Caryn Walsh
Michael Weiss
Sara Weiss
Jan S Wells
Evan White
Brett Whiteside
Barbara Whitney
Jamie Williams
Arlene Wilske
Robert Winn
Nicole Guffey Wiseman
Nena WoodburyAdditional Contributors (Foot Bump Tier):
Linda Abrams
Rajesh Agrawal
Ayman Aziz
Caz Bailey
Michael Barnes
Kevin Barrett
Daniyar Basharov
Courtney Beavers
Beau Blackwell
Ray Le Blanc
Barbara Bolich
Laurie Borne
Geert Klein Breteler
Neal Brugman
Shea Bryant
Besie Burke
Stephen Cantini
Julia Cecere
Nantana Chantavilasvong
Constance Charles
Lois Charles
Diane Chehab
Enoch Chen
Linda Classon
Sebastien Clediere
Ilene Cutler
Paul Daniel
Iury Dantas
Laura Stuart Dawson
Anne Denny
Cecil Denny
Panagiotis Deoudis
Sukhvinder Dhanjal
Tommy Draper
Terence Drew
Hristo Drumev
Andy Duinker
Maxim Fedyukov
Lynn Feld
Jamie Feldstein
John Andrew Fernandez
Trent Ferrell
Irene Fertik
Dan Filbin
Frederick Ford
Jim Freedom
Vera Freitag
Dean Fuller
Dave George
Essay Giovanni
Jayme Goldstein
S.A. Gould
Jaz Goven
Laura Graham
David Greer
Michael Grundler
Mark Haapala
Sue Hains
Kerri Hankin
Niki Harings
Donna Henningson
Kytka Hilmar-Jezek
Andy Hix
DJ Holte
Jim Howard
Christian Howd
Elena Ionescu
Ivan Ivanov
Barry Kaye
Suanne Kennedy
Kristjan Knigge
Georg Koester
Edwin Koo
Olya Kornienko
Elliot Kotek
Miklos Kozary
Jennifer Krouse
Manfred Lamplmair
Andrea & Wes Landaker
Frauke Langguth
Steve Lawson
Isabella Lazlo
M Gabrielle Legault
Thomas Lehman
Chris Lindstrom
Heather Loe
Alfred Lui
Karen MacPherson
Roopesh Manjunatha
Goto Mante
Lauren Mark
Jean Martens
Tim Maupin
Pamela McLean
Susan and Brian McMorris
Debra McNealy
Meadow Meadow
Mark Molento
Antonio Molinari
Sue Molyneaux
Alan Morris
Nicholas Murphy
Arne Neumann
Christina Nitschmann
Paul Okray
Simon Olofsson
Anthony Paribello
Gregory Parkford
James Patterson
Josh Patterson
Rebecca Raboy
Ryan Reiber
Rabia Revrabia
Roy Rice
Gwen Rice
Greg Rice
Will Richards
Andres Riofrio
Carole Rowley
Iris Salcedo
Joe Sandoval
Linda Saylor
Doris Scanlon
Katja Schwarzkopf
Dave Scott
Rebecca Shea
Elizabeth Simmons
Herve Simo
Jeanmarie Simpson
Brother Norman Joseph Smith
Richard Smykla
Aldo Spadoni
Maria Speight
Cassandra Stajduhar
Christopher Stolle
Alan Struthers
Susoix LLC
Geta Terawi
Charlotte Thornton
Jason Trask
Sharon Tsai
Ross Tudissco
Nicolette Vajtay
Scott Viteri
Jimmy Vosika
Padraic Walsh
Jake Willers
Cherell Williams
Rache Willis
Preston Wilson
Loh Chi Yong
VOLUNTEERS & IN-KIND DONORS
This film would not be possible without the help of the following people and organizations, who donated their time or services to help us!
Transcribers
Jean Moffitt / Des Muller / Mari Murayama / Hank Rowe / Jeremy Segundo / Anne Wright
Abyssinian Flight Service & Capt. Solomon Gizaw — provided aircraft for Jessica to fly over Addis Ababa, and flew cast and crew to Dire Dawa, Ethiopia
Air Asia / Zest — generously provided transportation for Jessica Cox and the RIGHTFOOTED team from Manila to Tacloban
James Reynolds / Earthuncut.tv (http://www.earthuncut.tv) generously provided footage of Typhoon Haiyan for RIGHTFOOTED
Turkish Airlines — provided seating upgrades for Jessica Cox during her humanitarian flight to Ethiopia
The Philippine Daily Inquirer,
the No. 1 newspaper in the Philippines
(according to The Nielsen Co.)
is a proud media sponsor of RIGHTFOOTED.